Here are recipes so you can make some of our most beloved cocktails at home.
Better yet, stop by and let us mix a fresh cocktail just for you!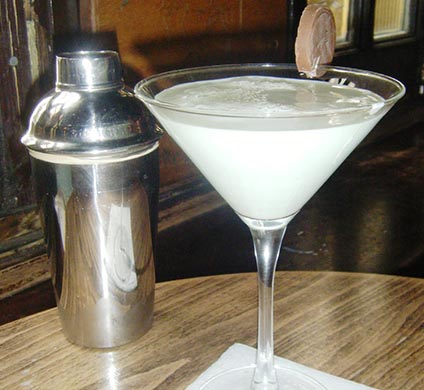 Dirty Girl Scout Martini
Best way to use Girl Scout Cookies!
Ingredients
1 Shot Vanilla Vodka
1/2 Shot Irish Cream
1/2 Shot Gr. Creme de Menthe
Splash of Cream
Procedure
Shaken and served UP in a Martini Glass with a Thin Mint Floater.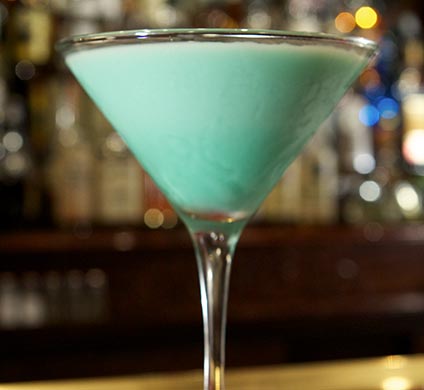 Iggletini
Named for the way Philadelphian's pronounce "Eagles." We also serve a Phillies-tini and a Phanatic Irish Bomb named for the Philadelphia Phillies, Freezin Flyer Fantini for the Philadelphia Flyers and a drink dedicated to the Philadelphia Union soccer team. McGillin's is the best sports bar in Philadelphia with high-def and projector screen TVs on two floors.
Ingredients
1 shot vanilla vodka
1/2 shot crème de cacao
1/2 oz "Eagle" Green Crème de Menthe
Procedure
Combine ingredients. Shake well and serve in a martini glass.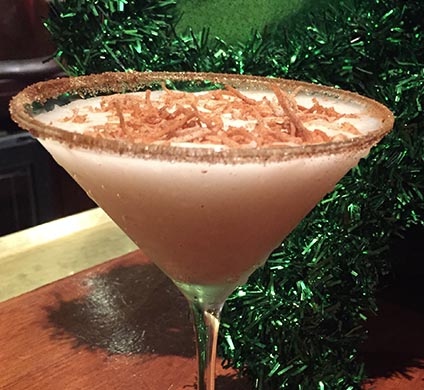 McGillin's Original Irish Potato Martini
This original drink has been called the ideal St Patrick's Day cocktail.
Ingredients
1 1/4oz Sweetened Coconut Milk
1 1/4oz Whipped Cream Vodka
1 1/4oz Malibu Rum
1 tsp Coconut tossed in Cinnamon Sugar
Procedure
Shaken and strained into a martini glass rimmed with cinnamon sugar, sprinkle with coconut and cinnamon.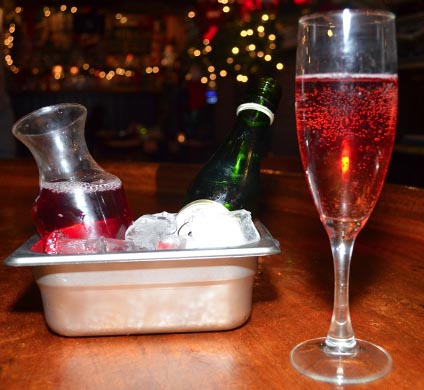 McGillin's Poinsettia Punch
One of our most popular holiday drinks along with our Candy Cane Martini, Irish Coffee, Drury Sleigh Ride, Mint Chocolate Chip Martini, Hot Toddy & more. Can be served as make-your-own cocktail.
Ingredients
1 split champagne
4 ounces cranberry juice
1/2 oz. Triple sec
Procedure
Mix ingredients together. Serve in a champagne glass.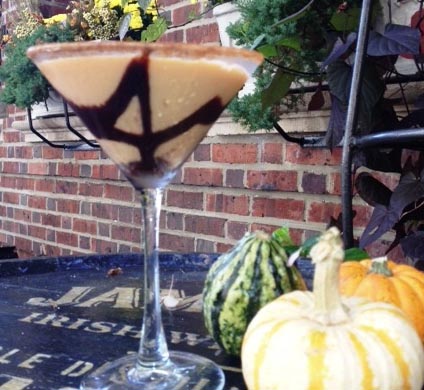 McGillin's Pumpkin Martini
Beloved cocktail served every fall at McGillin's, along with our Chocolate Pumpkin Martini
Ingredients
1-1/4 oz. Vanilla vodka
1-1/4 oz. Pumpkin smash (a liquor)
1/2 oz. Milk or Half and Half
1 tsp. Sugar
1 tsp. Cinnamon
Procedure
Mix first 3 ingredients. Pour over ice in martini shaker. Shake well. Then, mix sugar and cinnamon and rim martini glass with mixture. Strain liquid martini ingredients into chilled martini glass rimmed with the cinnamon and sugar mixture.
Red, White & Blue Freedom Cocktail
Served around Memorial Day, Flag Day, Fourth of July, Labor Day & whenever we're feeling patriotic
Ingredients
1-1/2 cups ice
1-1/2 shots rum
1/2 cup Strawberry daiquiri mix
1/2 cup Piña Colada mix
1/2 cup Blue Curacao
Procedure
Blend 1/2 cup ice, 1/2 shot rum and strawberry daiquiri mix. Set aside. Blend 1/2 cup ice, 1/2 shot rum and piña colada mix. Set aside. Blend ½ cup ice, 1/2 shot rum and Blue Curacao.
Carefully, pour daiquiri mixture into bottom of hurricane glass. Top with piña colada mixture. Pour blue curacao on top. Pour each layer very carefully so that the colors stay separate.
Holiday Cocktails 2023
MISTLETOE MULE – Stateside Vodka, Ginger Beer, Splash of Cranberry, Cranberries & Lime $10
PEPPERMINT BARK – Absolut, Coffee Liqueur, Jacquin's Creme de Cocoa, Dash of Cream, Peppermint Rim $10
POINSETTIA – Split of Champagne & Carafe of Orange Liqueur-Spiked Cranberry Juice, orange wedge – Mix your own! $11
ALL I WANT FOR CHRISTMAS IS YOU – Beefeater Gin, Cranberry Juice, Soda Water, Rosemary, Cranberries $10
EGGNOG MARTINI – Smirnoff Vanilla Vodka, Jacquin's PA Dutch Spiked Eggnog, Dash of Cream, Cinnamon-Sugar Rim, Nutmeg $12
THE GRINCH – Don Julio Blanco, Melon Liqueur, Sour, Lemon-Lime Soda, Christmas Cocktail Pick, Cherry $12
FIRESIDE – Captain Morgan Spiked Rum, Hot Apple Cider, Cinnamon-Sugar Rim, Cinnamon Stick $10
SANTA'S SIPPER – Bulleit Bourbon, Maple Simple Syrup, Bitters, Christmas Cocktail Pick, Orange wedge & Maraschino Cherry $10
CHRISTMAS COFFEE/HOT CHOCOLATE – Bean-to-Bean Coffee or Hot Chocolate, Jim Beam, Dollop of Whipped Cream, Sugar, Jacquin's Green Creme de menthe, Candy Cane $10
Plus a rotating list of Christmas beers.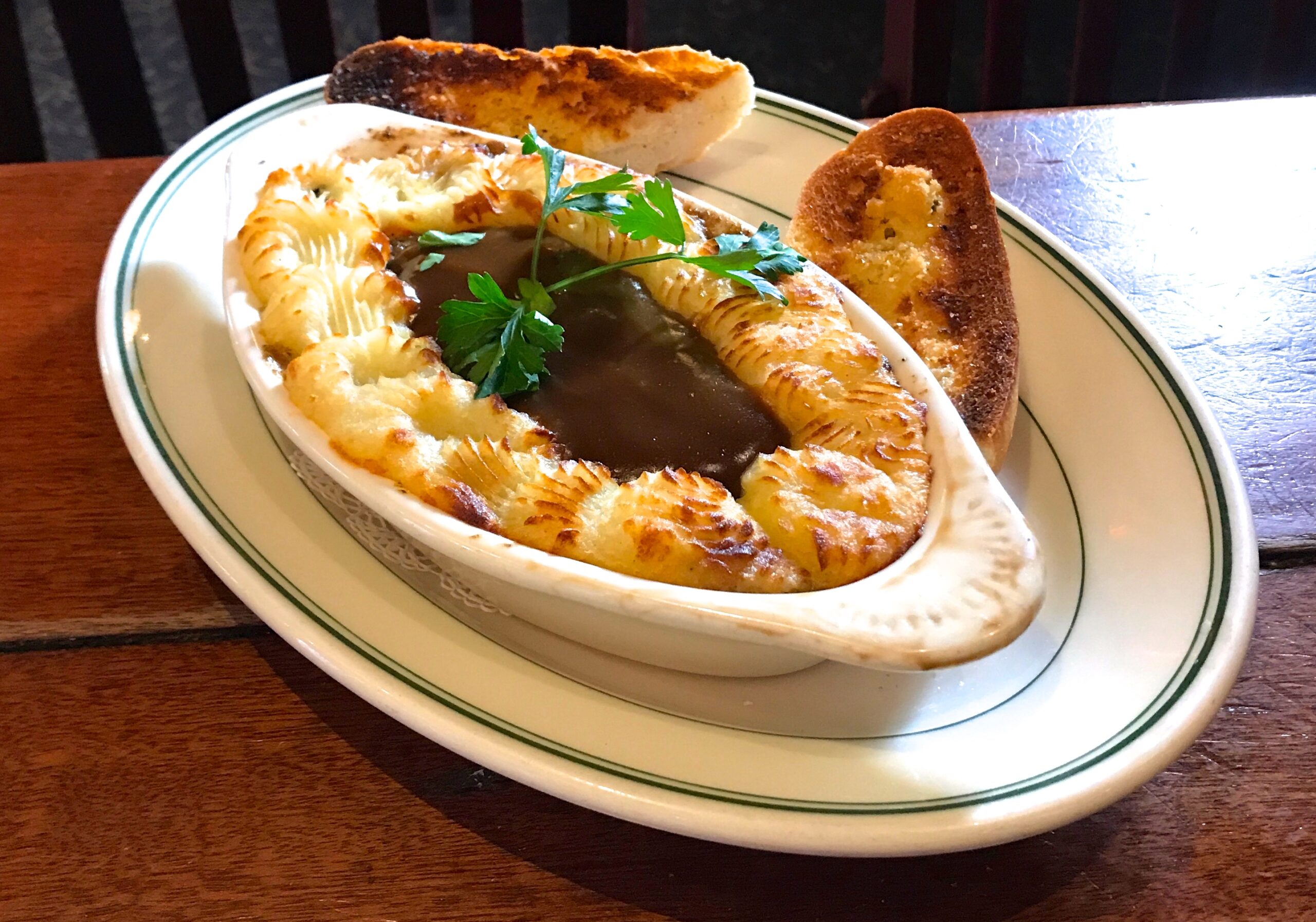 Shepherd's Pie
One of McGillin's signature dishes.
Makes 20 single serving crocks. (Can be frozen without potatoes. Then add potato topping when ready to serve.)
Ingredients
3 cups whole diced onions (or 2)
10 lbs. ground beef
2 qt. Sliced Mushrooms
2 qt. Brown Gravy
2.5 lb. Peas and Carrots
2 oz Dry Sage
2 oz Dry Thyme
1 oz Ground Pepper
1 oz Granulated Garlic
Salt, to taste
1 Bunch Fresh Parsley, chopped
Mashed potatoes
Procedure
In Large, Heavy Bottomed Pot:
Sauté Onions, until translucent.
Add Beef, cook half way, then add Mushrooms.
When Beef and Mushrooms are cooked through, drain.
Return empty pot to heat…add Beef Gravy, Peas and Carrots, Beef and Mushroom Mix.
Add spices, except parsley.
Heat until Bubbly.
Turn off heat, add chopped Parsley.
Flute mashed potatoes on top.