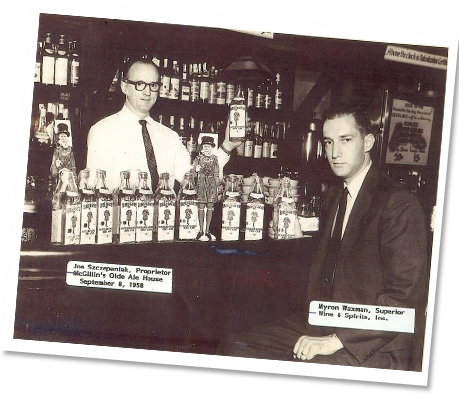 Shortly after the Liberty Bell cracked and long before ground was broken for City Hall, McGillin's Olde Ale House threw open its doors. Its beer taps have been flowing since 1860 — making it the oldest continuously operating tavern in Philadelphia. McGillin's has outlasted Strawbridge's, the Civil War and even Prohibition. McGillin's celebrated its 150th anniversary in 2010.
1860
Catherine & William McGillin opened the Bell in Hand Tavern.The Irish immigrants, who raised their 13 children upstairs, soon become known as "Ma" and "Pa" and the laborers who frequented the bar called it "McGillin's." The nicknames eventually stuck. The tavern grew to include the oyster house next door, the back alley/washroom and the house upstairs.
Abe Lincoln elected president. Although Lincoln visits Philadelphia, we have no proof that he visits McGillin's. Of course, we have no proof that he doesn't either.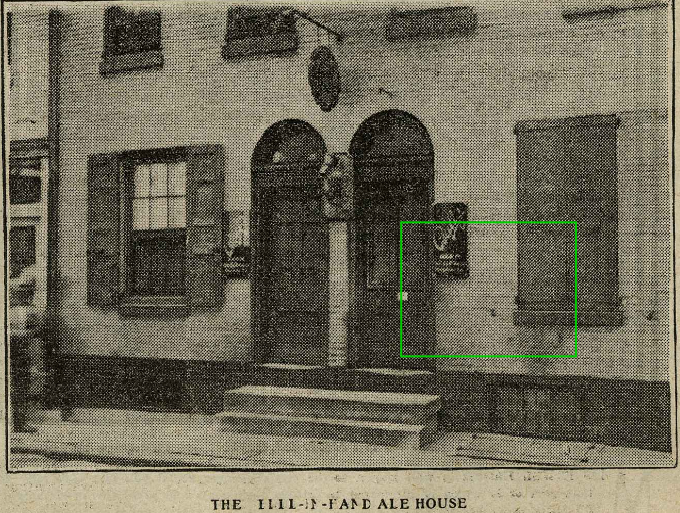 1862
Mexican victory over the French at the Battle of Puebla — now marked by Cinco de Mayo, celebrated annually at McGillin's, with an Irish twist.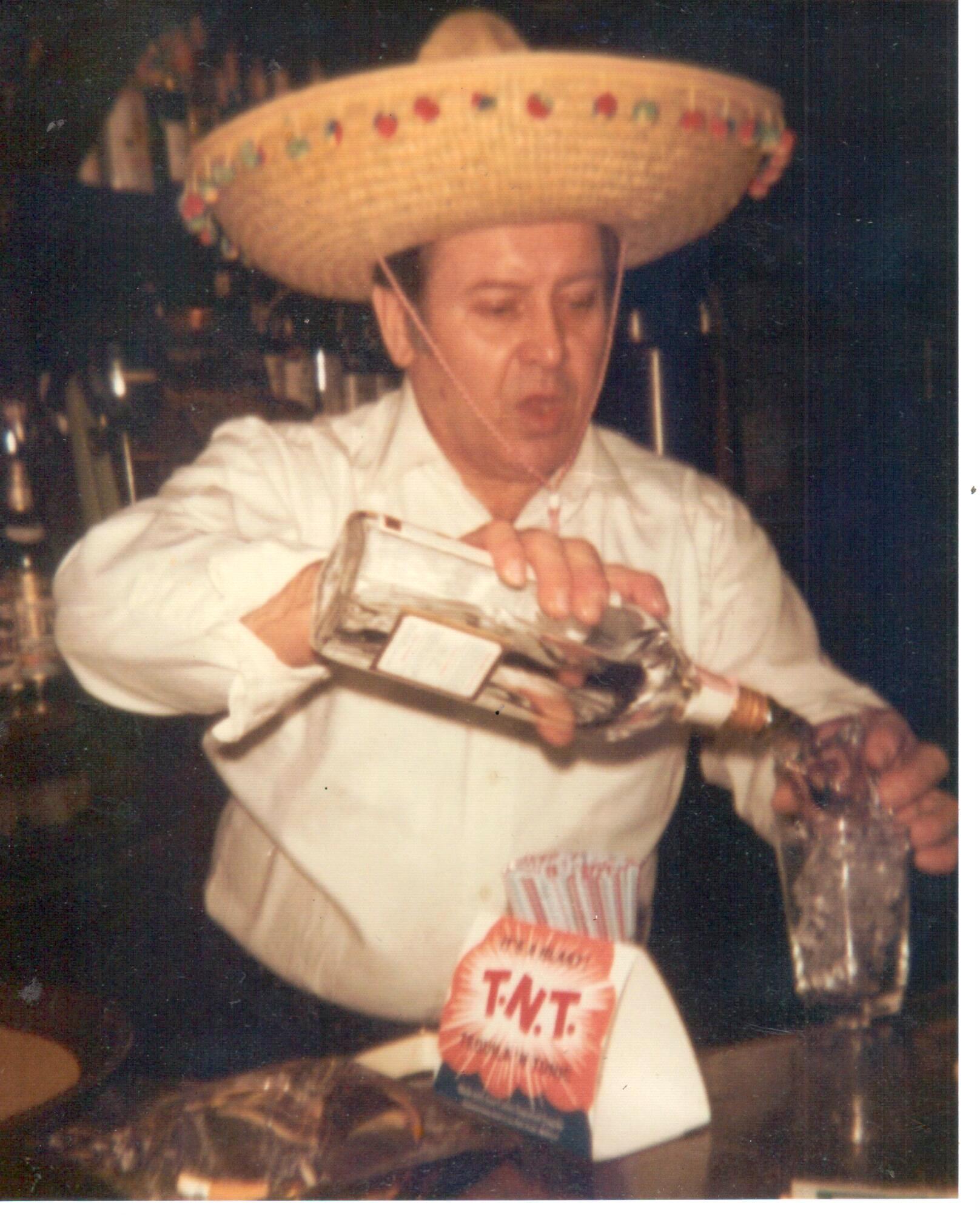 1865
Civil War ends. McGillin's doesn't really have anything to do with this — but will happily take credit.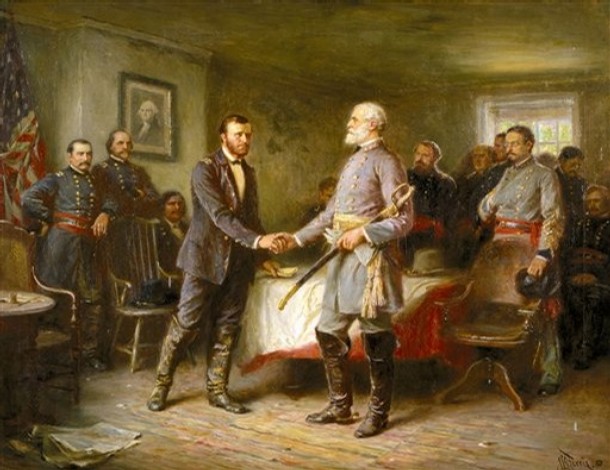 1871
Construction of City Hall begins (completed by 1901) two blocks from McGillin's. Every liquor license since 1871 hangs on the wall at McGillin's.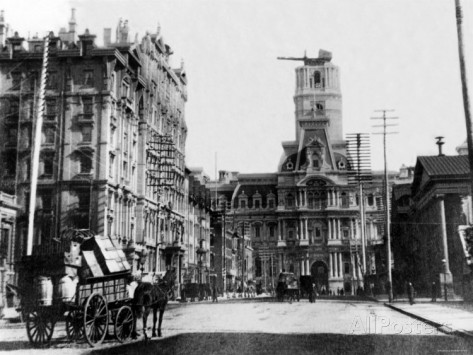 1876
America celebrates 100th Anniversary, The Centennial. John Wanamaker Department Store opens around the corner from McGillin's (now Macy's). McGillin's outlasts Wanamaker's. Wanamaker sign part of McGillin's collection of iconic Philadelphia signs.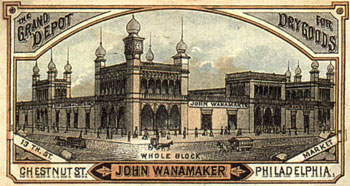 1879
Woolworth opens. Its sign added to McGillin's sign collection when it closes in 1997.

1880
McGillin's customer, W.C. Fields, born. "Philadelphia is a wonderful place; I spent a week there one night."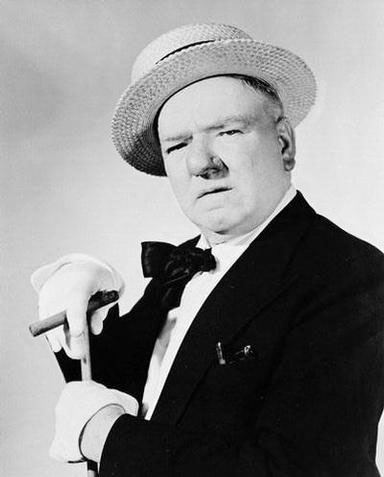 1885
McGillin's celebrates 25th anniversary.
1887
Gimbel Brothers opens in Philadelphia. Its sign added to McGillin's iconic sign collection when it closes in 1987.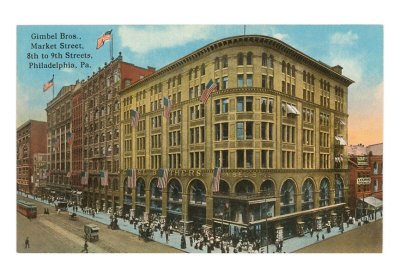 1901
Pa McGillin dies & Ma McGillin takes over bar. No pushover, Ma has a list of troublemakers who weren't allowed in. The list reads like the social registry, including some of Philadelphia's most prominent citizens.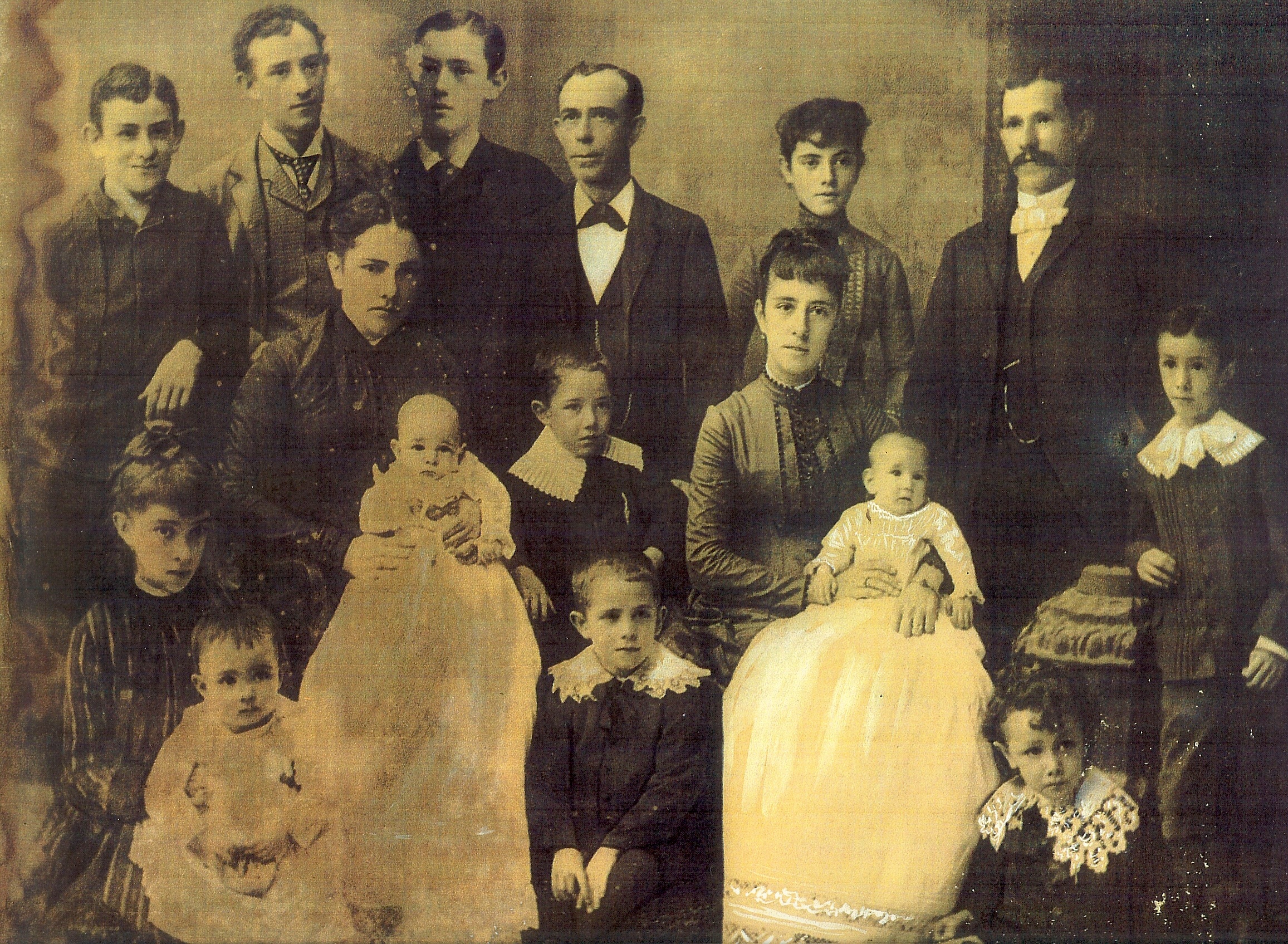 1910
McGillin's celebrates 50th anniversary with a new façade. Name officially changes to McGillin's Olde Ale House.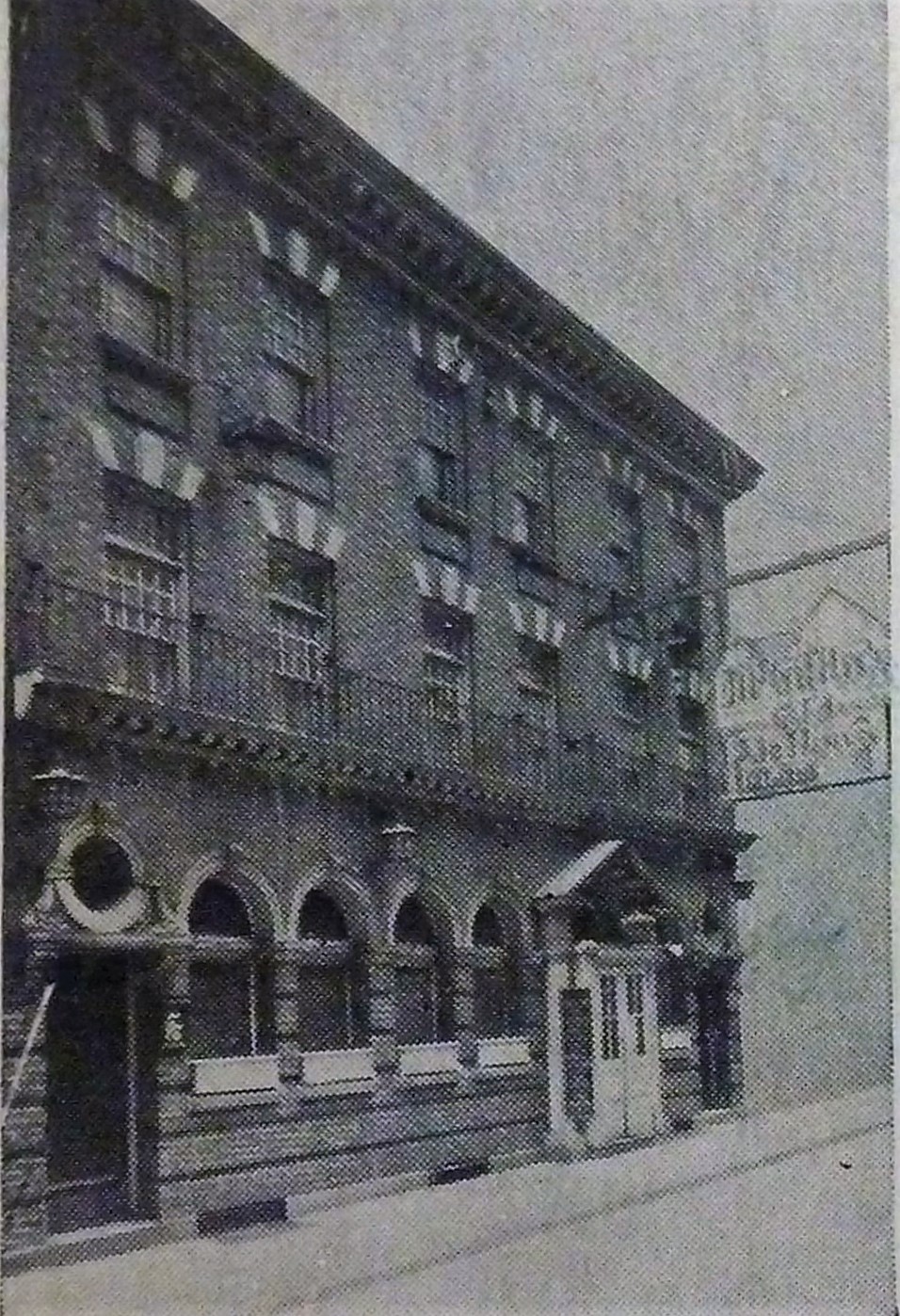 1920
Prohibition enacted. During Prohibition, Ma McGillin hires a chef. Serves food and ice cream and perhaps, a few tea cups were tipped on the second floor.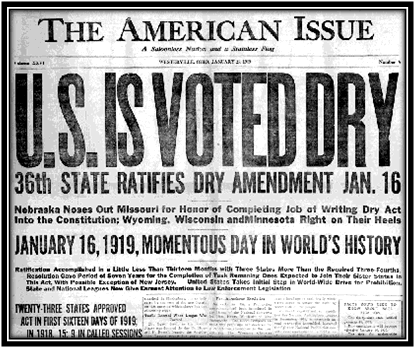 1930
Philadelphia cheesesteak invented. A top-seller at McGillin's.
1933
Prohibition ends! Ma McGillin takes the key from her breast pocket and reopens the pub's front door.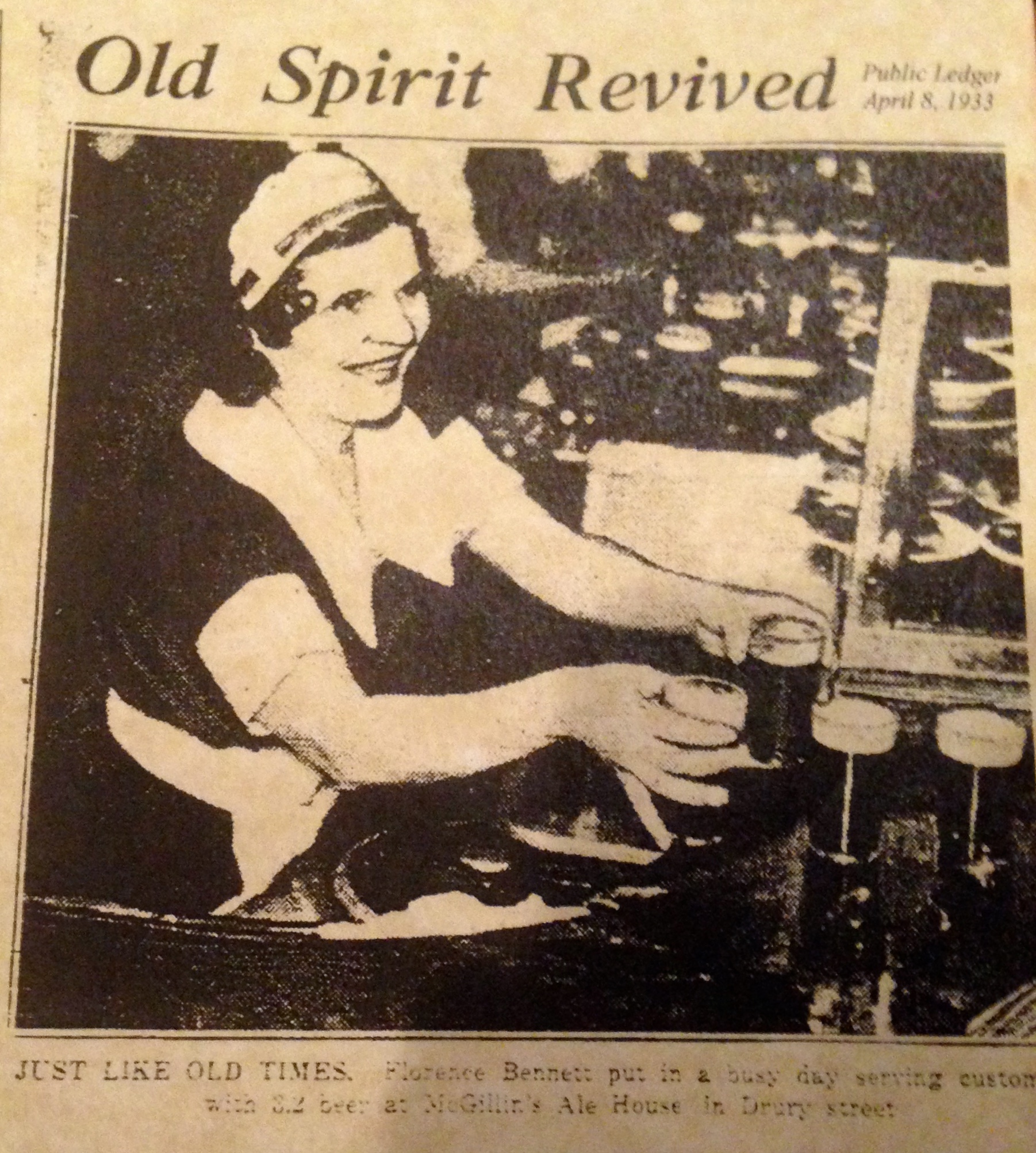 1935
McGillin's celebrates 75th anniversary.
1936
Ma McGillin Turns 89 — making national press!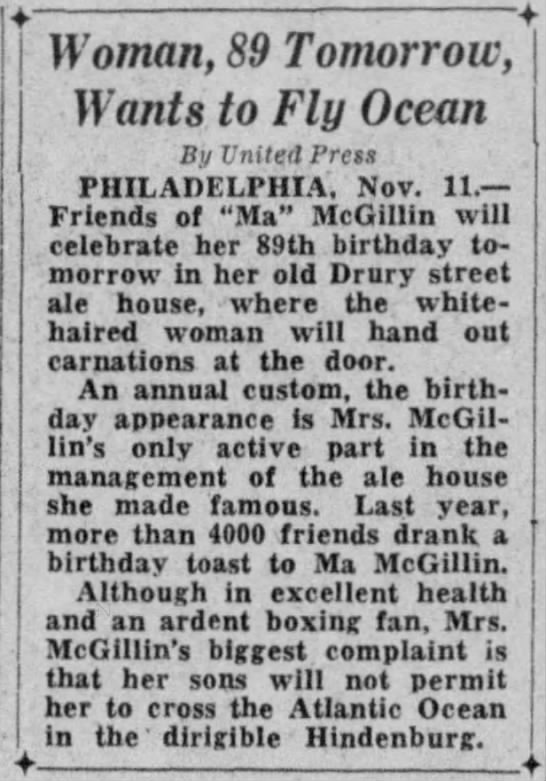 April 16, 1937
Ma McGillin dies at age 89. Daughter, Mercedes McGillin Hooper, one of the 13 children who grew up in the room above the tavern, runs the Ale House until 1958, with her nephew Doc.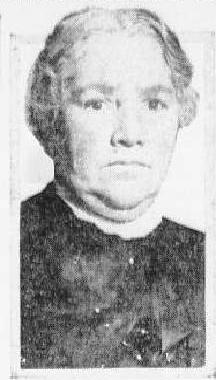 1941
Pearl Harbor Day. Thousands of soldiers and sailors pass through McGillin's doors on their way to the front.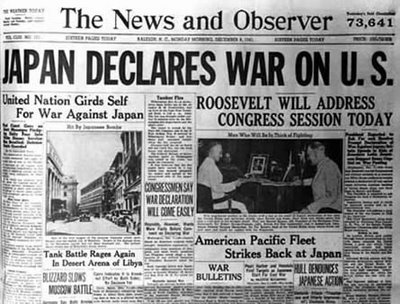 1958
Brothers Henry Spaniak & Joe Shepaniak (yes, they spell it differently) buy the bar from McGillin's family. Three generations later, it's still in the family – with the same old fashioned values & prices.
1960
McGillin's Olde Ale House celebrates 100th anniversary.
1964
Ethel Merman, frequents McGillin's, where she reminisces about her childhood days on the road with her Vaudeville parents. Says to owner Henry Spaniak "tell anyone I'm here and I'll never come back." Guess she's not coming back?!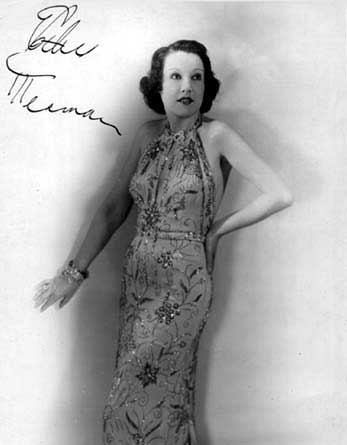 1971
Tennessee Williams visits McGillin's.
Corestates Opens. When is closes in 2008, it's sign is added to McGillin's sign collection.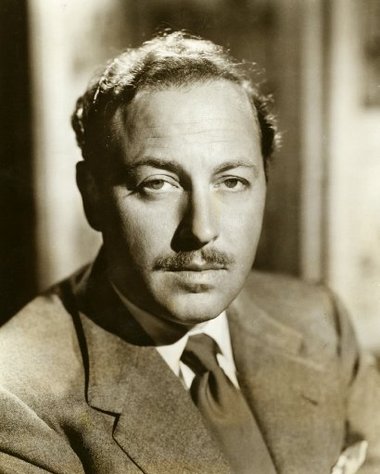 1977
Lit Brothers close after almost 100 years. Sign added to McGillin's collection of iconic Philadelphia signs.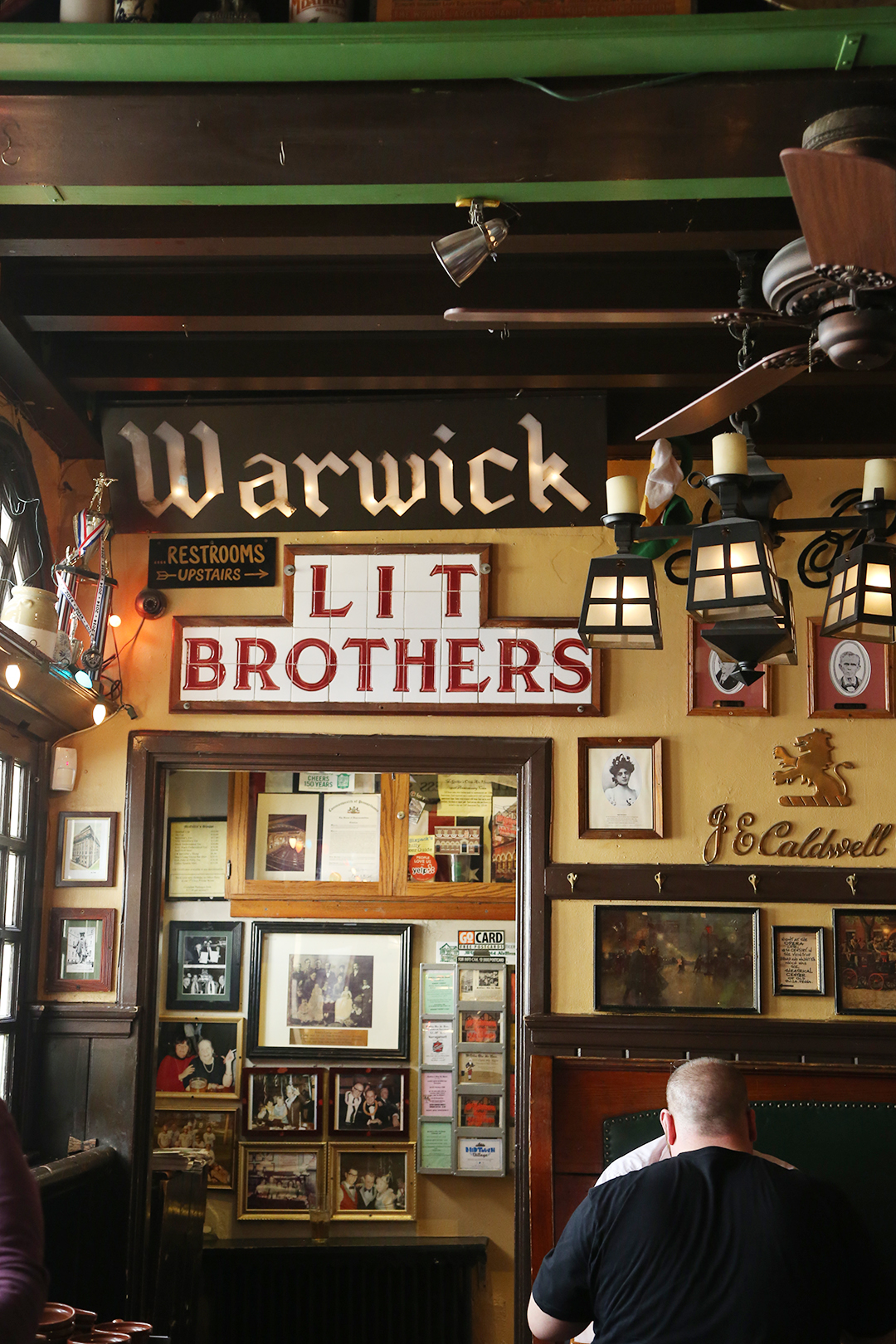 1985
McGillin's celebrates 125th anniversary.
1987
One Liberty Place breaks Philadelphia skyline. Curse of Billy Penn is born (see 2008). Don't blame McGillin's — we were here 41 years before City Hall (see 1871).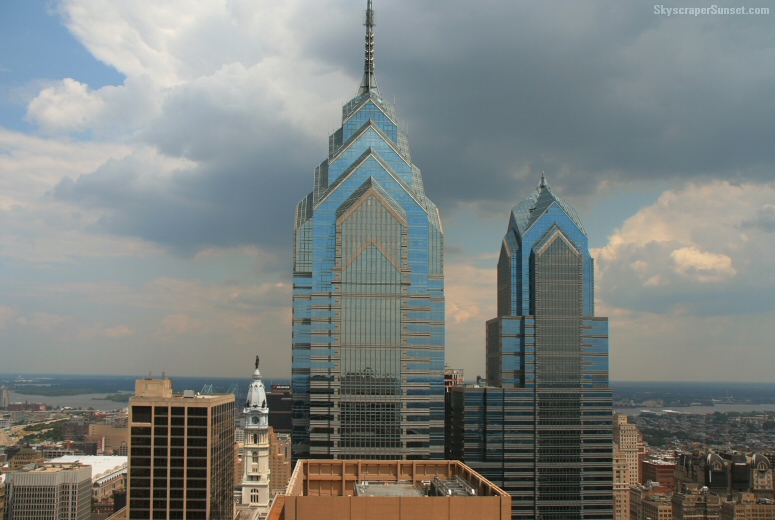 1993
McGillin's sold to second generation of Spaniaks- Henry's daughter, Mary Ellen Spaniak Mullins, & son-in-law, Chris Mullins.
McGillin's Real Ale & McGillin's Genuine Lager debut on draft, Philadelphia Craft Beer Scene begins.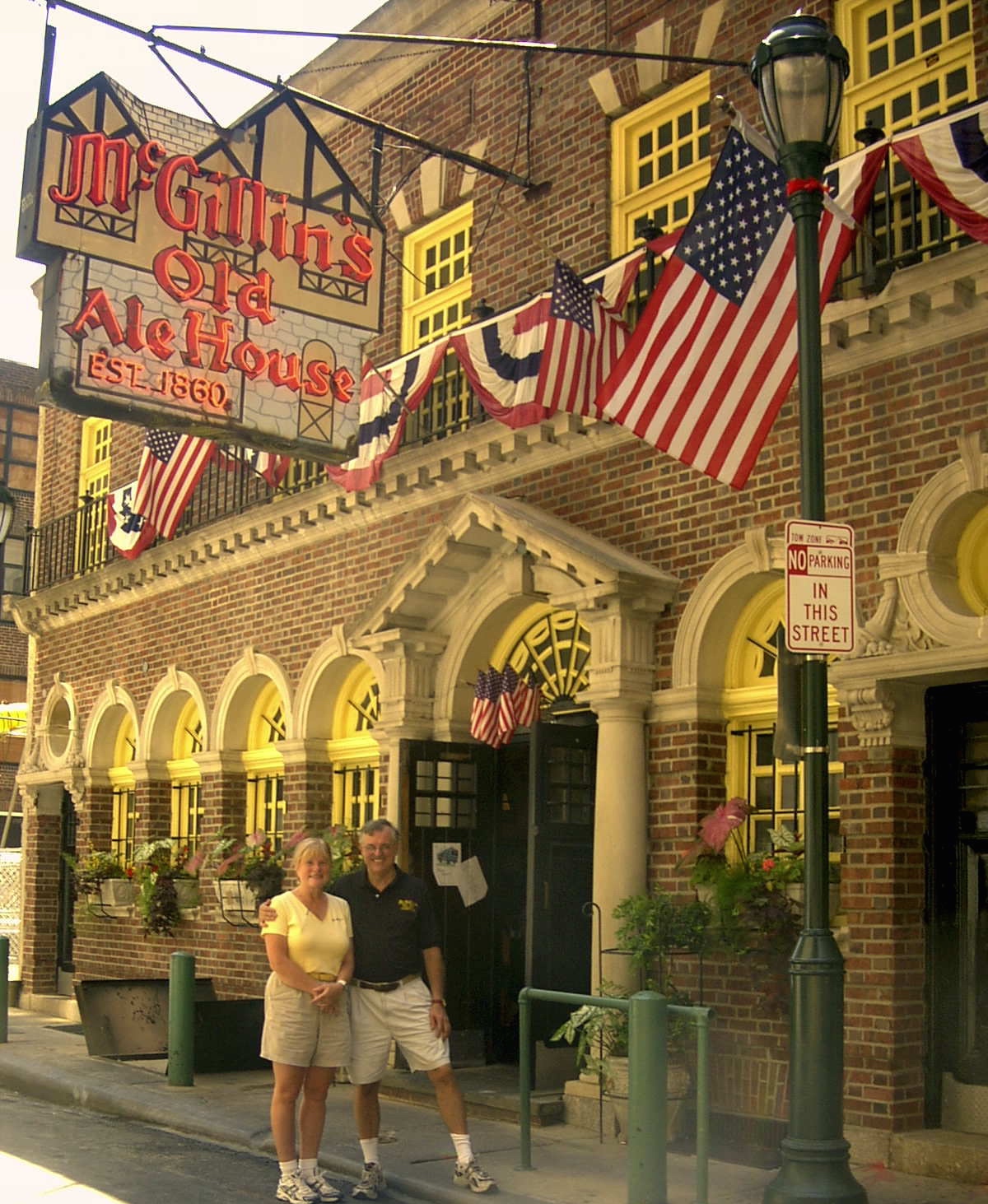 2003
J.E. Caldwell, a jeweler in business since 1939, closes. Sign added to McGillin's collection of iconic signs.

2006-2007
McGillin's named to the list of Top 100 Nightclubs & Bars in the U.S. by Nightclub & Bar Magazine — 2 years in a row!
Third generation of Spaniak family joins management team at McGillin's — Christopher Mullins, Jr., son of Mary Ellen & Chris Mullins & grandson of Henry Spaniak.
Deux Cheminees and Strawbridge & Clothiers signs added to McGillin's collection. The former opened in 1970s and the latter in 1868.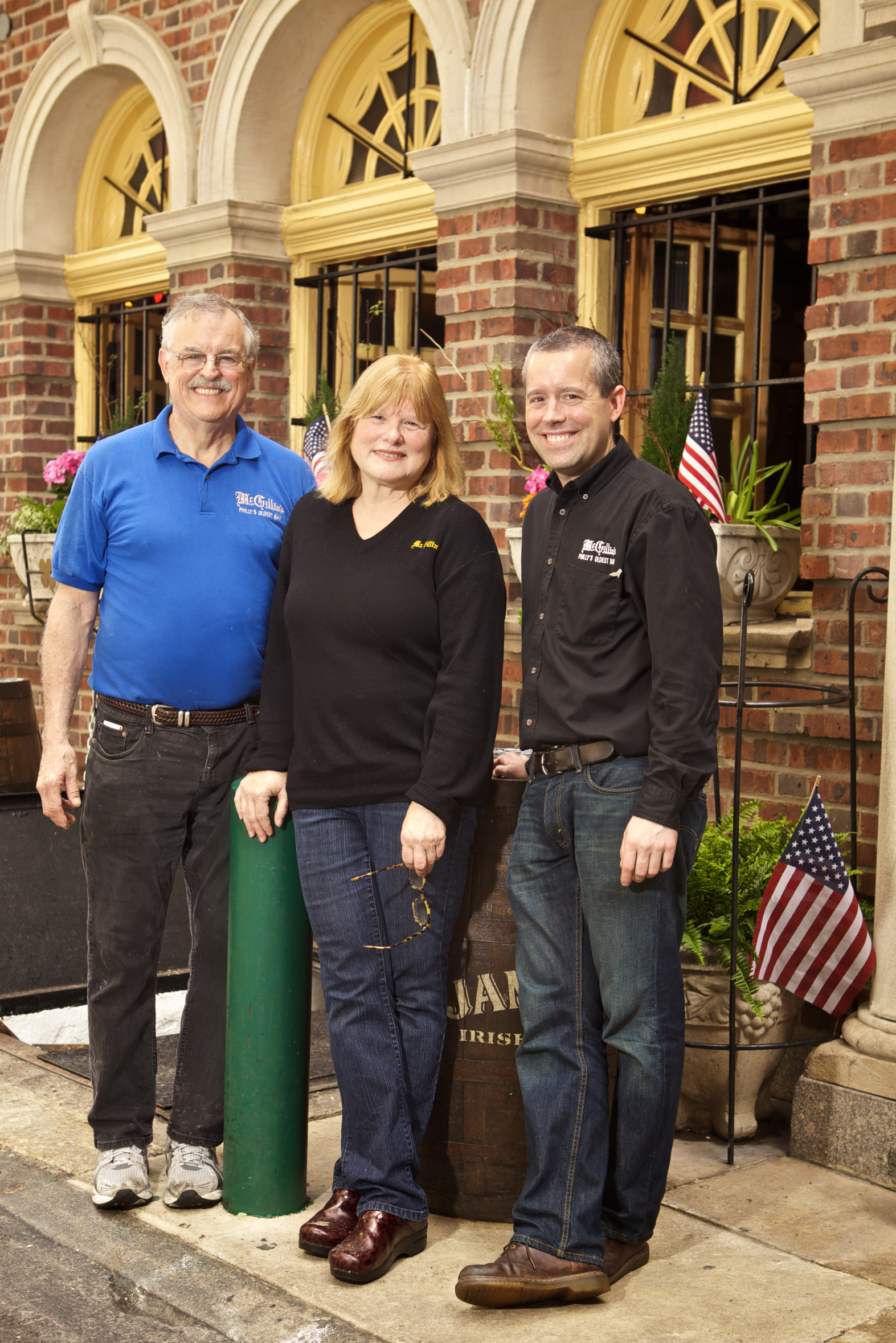 Sons of Ben is created here at McGillin's
The Sons of Ben, a supporter group of Major League Soccer's Philadelphia Union, was created at McGillin's! Bryan James, Andrew Dillon, and David Flagler founded the Sons of Ben supporters club on January 17, 2007, the 301st anniversary of Benjamin Franklin's birthday. Philadelphia soccer fan Ethan Gomberg suggested the name. The Sons of Ben are the first Philadelphia Union supporters club, and use the Philadelphia civic colors of light blue and yellow as opposed to the darker shades officially used by the team. The Sons of Ben began during a flurry of rumors regarding Major League Soccer's negotiations with investors regarding a potential team in the Philadelphia region.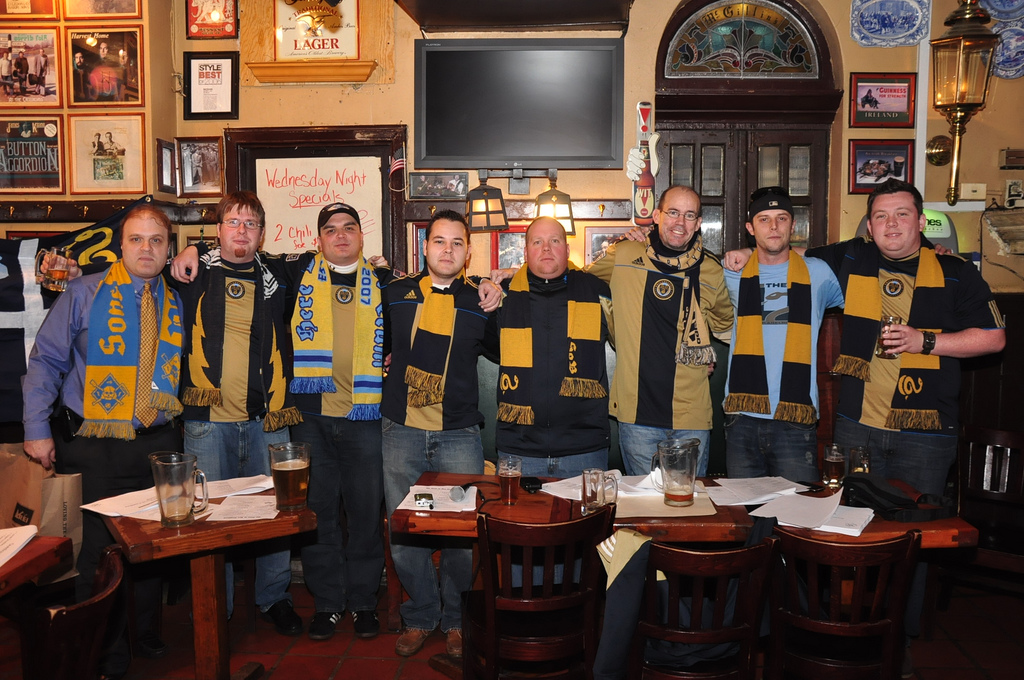 2008
Gourmet magazine names McGillin's "one of the 14 coolest bars in the U.S."
McGillin's dives into social media (Twitter & Facebook) — proving you can teach an old dog new tricks!
Curse of Billy Penn ends — Phillies win World Series! Big crowd watches at McGillin's!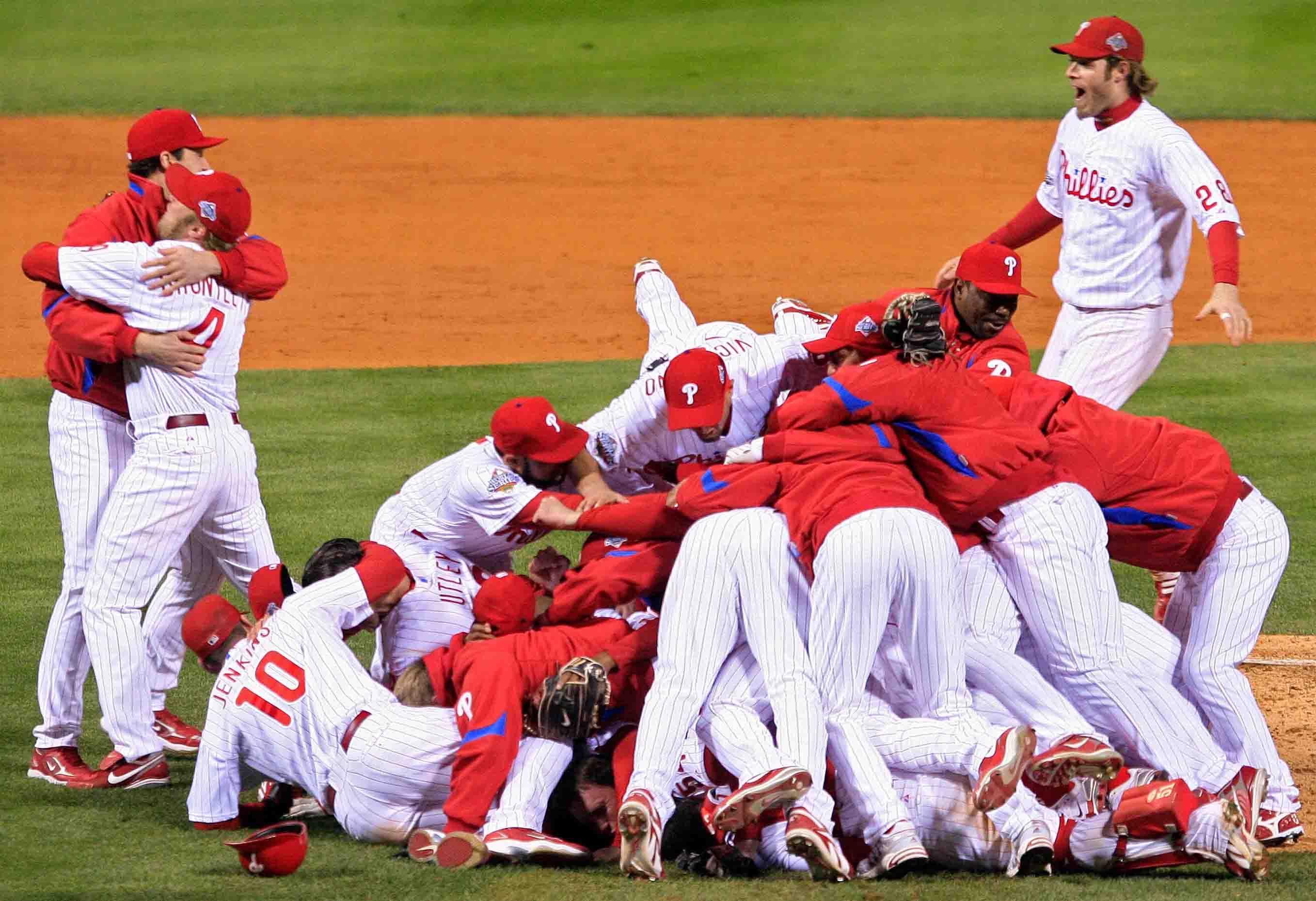 2010
McGillin's made history – celebrated 150th anniversary with giant party, visit from Budweiser Clydesdales and introduction of McGillin's 1860 IPA.
McGillin's employee, for over 40 years, John Doyle wins "Best Bartender" award from Philadelphia magazine.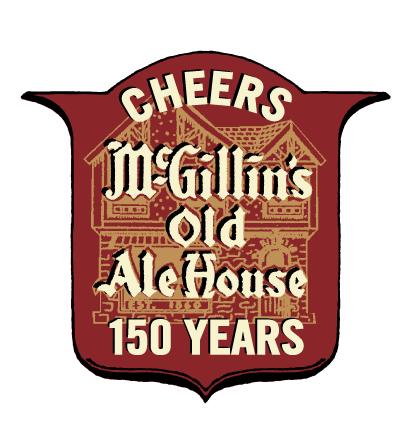 Philadelphia Magazine awards John Doyle the "Best Bartender in Philadelphia" – it took them that long to realize it? He's been a fixture here for OVER 40 years!! Congrats John!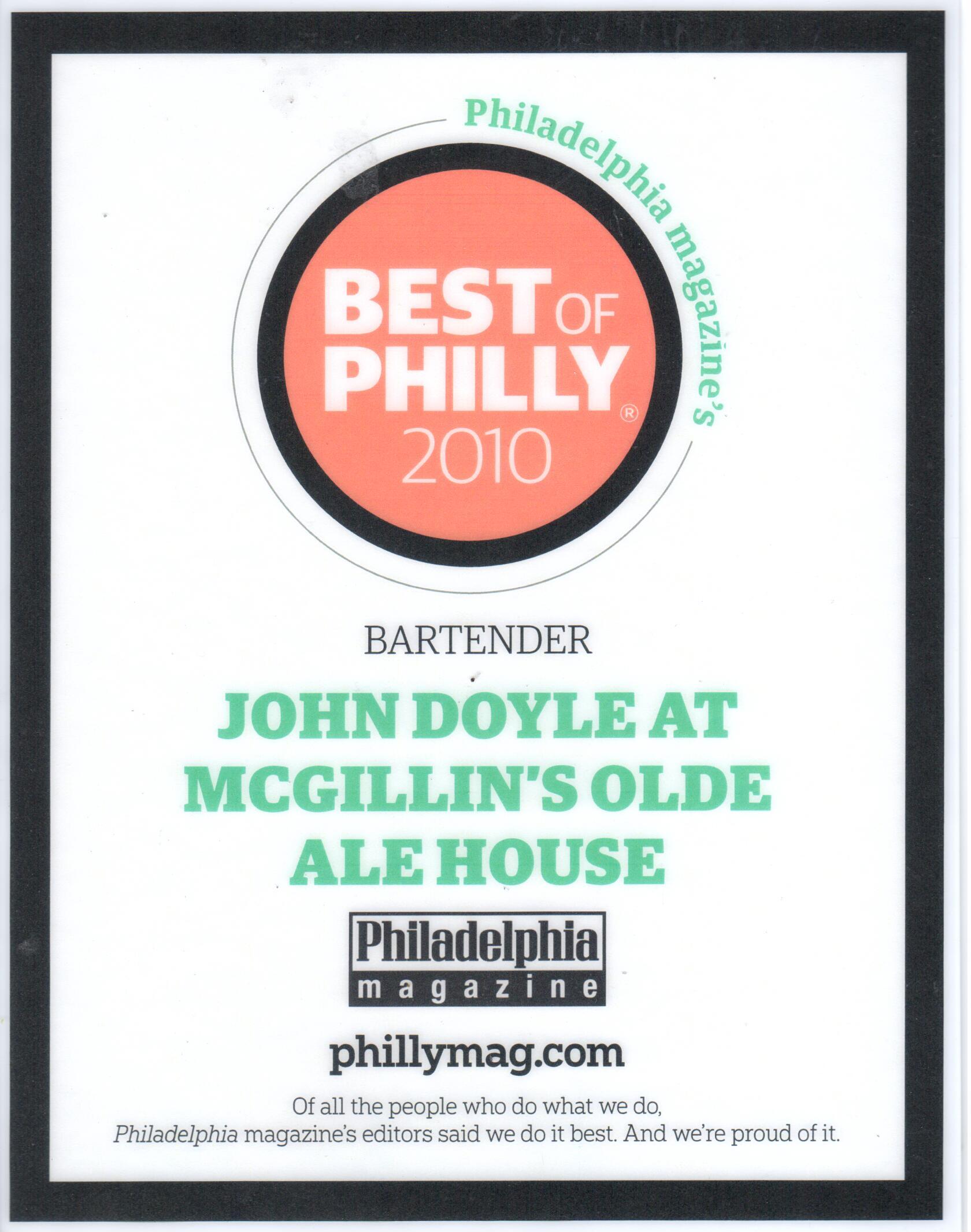 2011
McGillin's wins "Best Happy Hour" award from Philadelphia Magazine.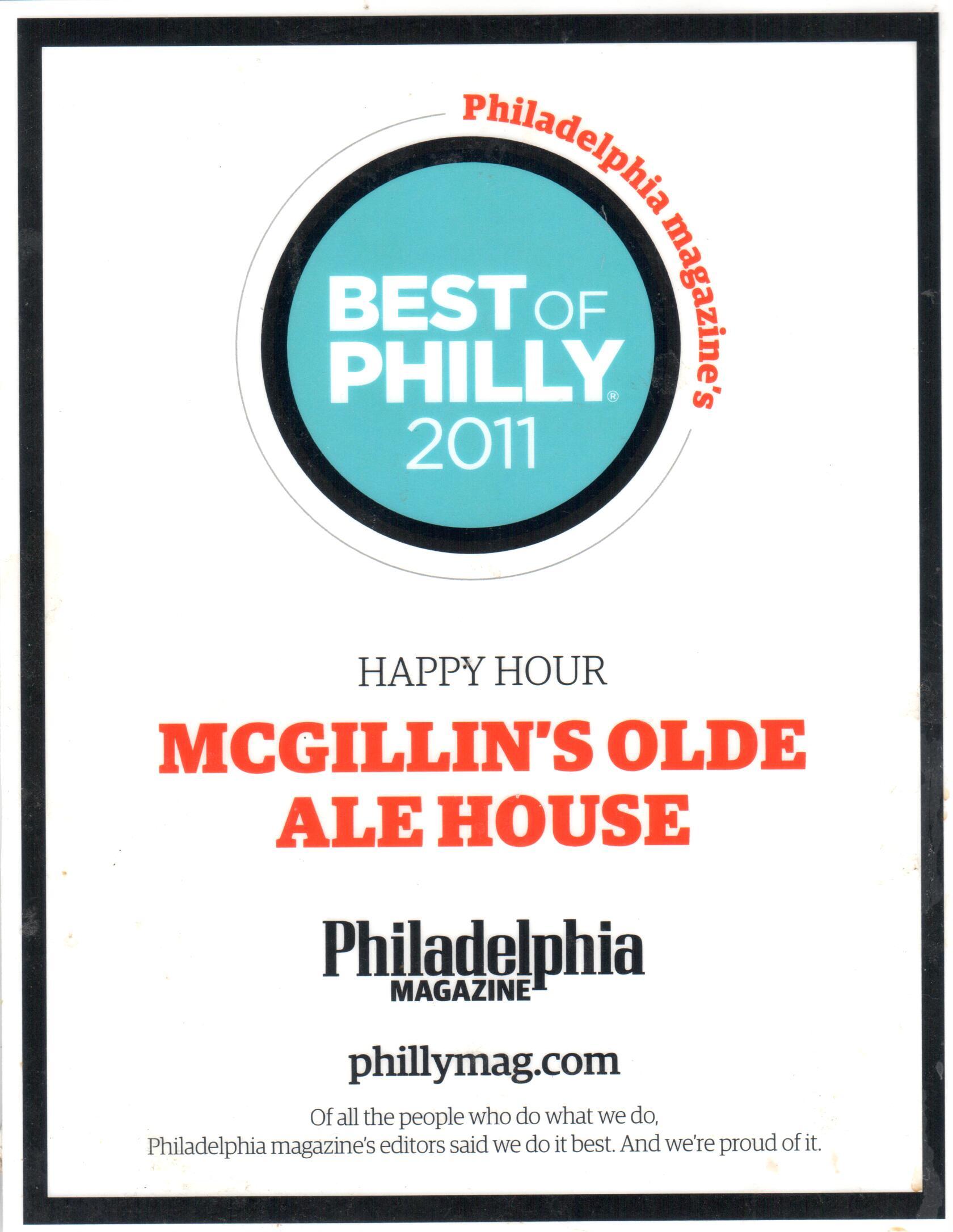 2012
Complex Magazine named McGillin's to list of The 50 Best Irish Pubs in America
Irish Pubs Global named McGillin's to list of America's Best Irish Bars
McGillin's wins best Happy Hour award from DrinkPhilly.com
McGillin's runner up for Best Sports Bar award from DrinkPhilly.com
2013
Fodor's names McGillin's One of Ten Best Historic Bars in the U.S. and one of Best Irish Bars in America
Irish Central Named McGillin's to list of 10 Best Irish Pubs in the U.S.
Fox News named McGillin's to the list of Top Irish Pubs in the U.S.
CBS named McGillin's to list of top Karaoke Spots in Philadelphia
Le Bec Fin, which kicked off Philadelphia's restaurant renaissance in 1970, closes and its sign is added to collection at McGillin's.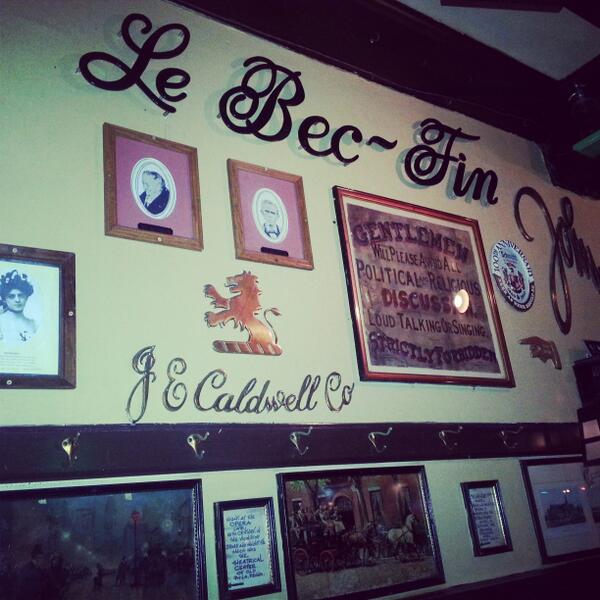 2014
McGillin's named One of Top St. Patrick's Day Bars in U.S. by Huffington Post
McGillin's on thrillist.com's list of Best Irish Pubs in the United States
McGillin's named 1 of 10 Best Irish Pubs in the Country by bustle.com
McGillin's called one of 10 Best Authentic Irish Pubs in America by American Profiles
Yahoo Travel and Gayot name McGillin's to list of Top 10 Irish Pubs in the U.S.
Named McGillin's one of 18 most Authentic Irish Pubs in America
2015
The Travel Channel names McGillin's one of the Best Irish Bars in the U.S.
International Business Times names McGillin's on list of Where to Celebrate St Patrick's Day
McGillin's Named one of Most Authentic Irish Pubs in America by USA Today & Huffington Post.
Named one of Most Popular Tourist Attractions in Philadelphia by Philadelphia Business Journal
July 2016
Vice President Joe Biden visits McGillin's
During the week Philadelphia hosted the DNC, McGillin's hosted MSNBC's morning show "Morning Joe" hosted by Joe Scarborough and Mika Brzezinski. Local and National politicians visited McGillin's throughout the week, the highlight was the Vice President.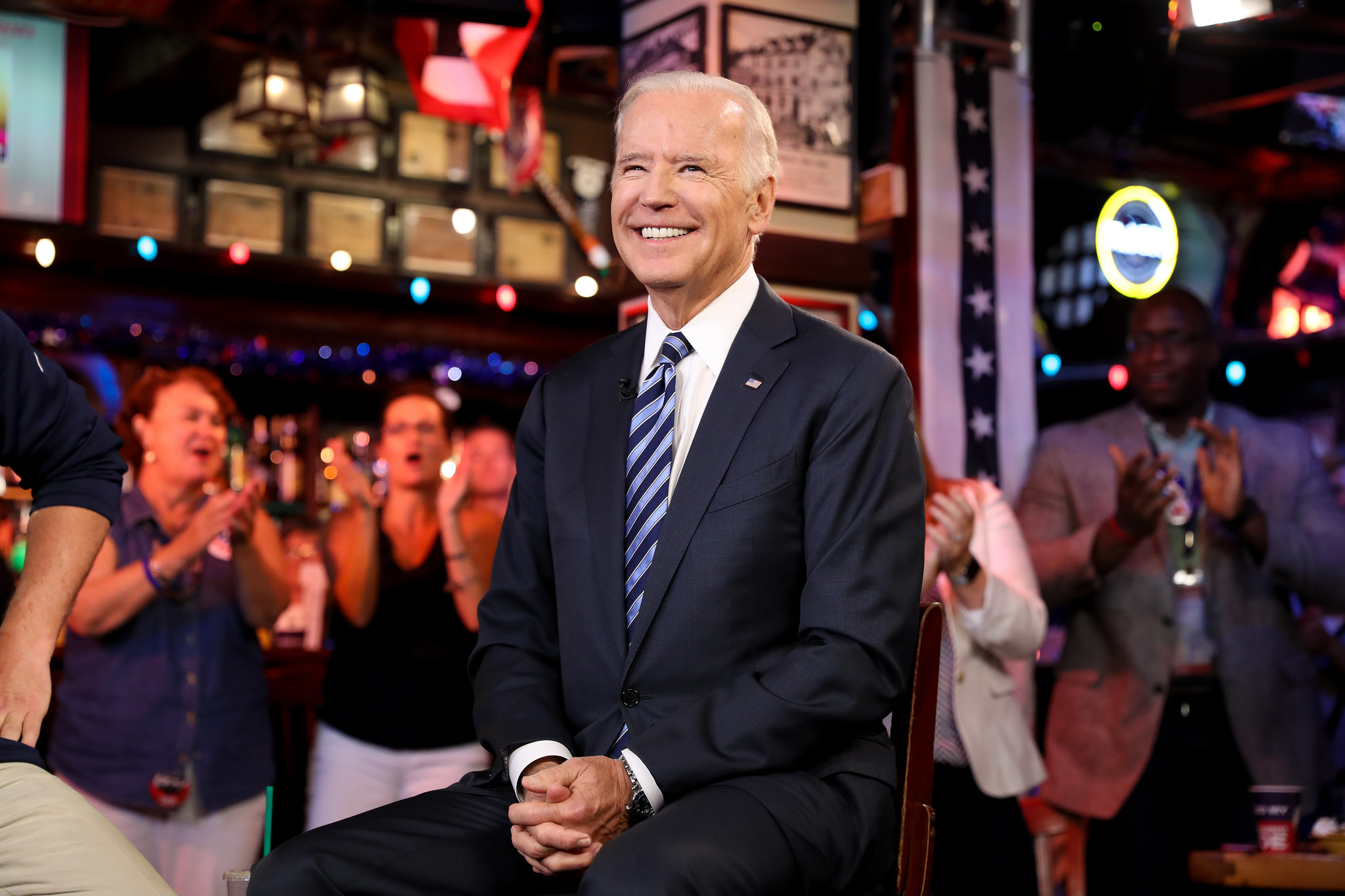 2016
McGillin's awarded by Philadelphia Magazine as the "Best Place to Watch the Game"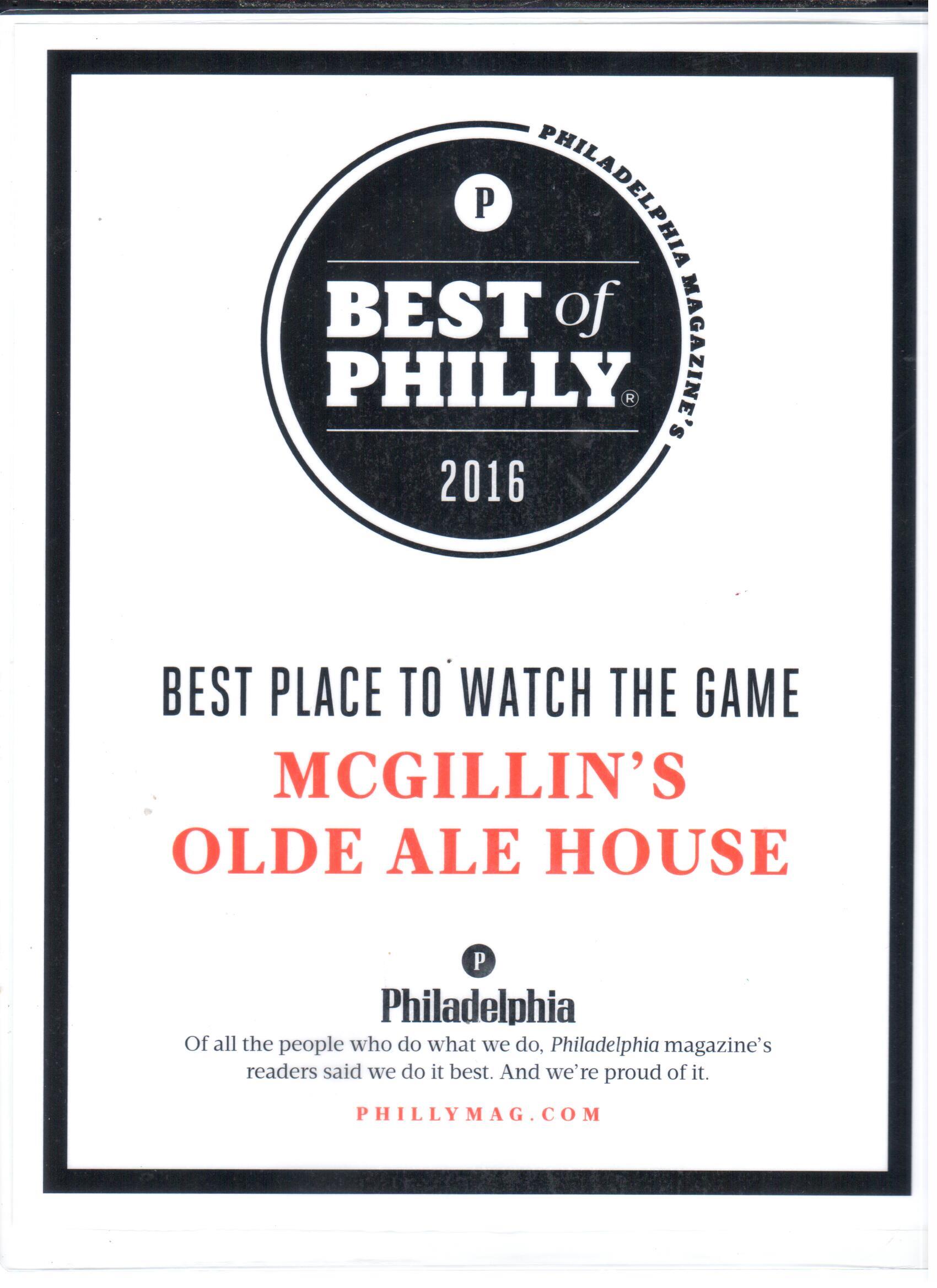 June 2018
25th Anniversary
It's been 25 years since Mary Ellen & Chris Mullins, Sr. took over McGillin's Olde Ale House, which they now run with their son, Christopher Mullins, Jr. They bought it in 1993 from Mary Ellen's father and uncle. So it's been in the same family for 60 years of its 158 years!
October 2019
Modelo commercial featuring Christopher Mullins, Jr.
Modelo has paired with the International Rescue Committee, an NGO that responds to humanitarian crises and helps people rebuild their lives. More than 100 years ago, Christopher's grandparents immigrated to America making McGillin's especially proud to be part of this campaign that helps immigrants get a fighting chance here.
Leap Day Proposals
It's an old Irish tradition for women to propose on Leap Day. And where better than McGillin's Olde Ale House, where there's mating magic. More couples have met at McGillin's than anywhere else in Philadelphia!
On Leap Day 2020, we held a contest and 3 couples got engaged here. Wishing them long, happy marriages!